Společnost SIGMATRONIC a.s. realizuje projekt Vývoj software pro simulace ve virtuálním prostřední společnosti SIGMATRONIC a.s., jehož předmětem je tvorba nové generace parašutistického simulátoru SOKOL s novými moduly a funkčními celky a vývoj nové simulační parašutistické SW platformy na bázi systému SOKOL. Bude vytvořen nový řídící software, nové funkcionality umožňující např. výcvik více týmů najednou a zároveň realizován vývoj nového grafického rozhraní, aby co nejvěrnějším způsobem zobrazovala realitu. Na tento projekt je poskytována finanční podpora od Evropské Unie (OPPIK).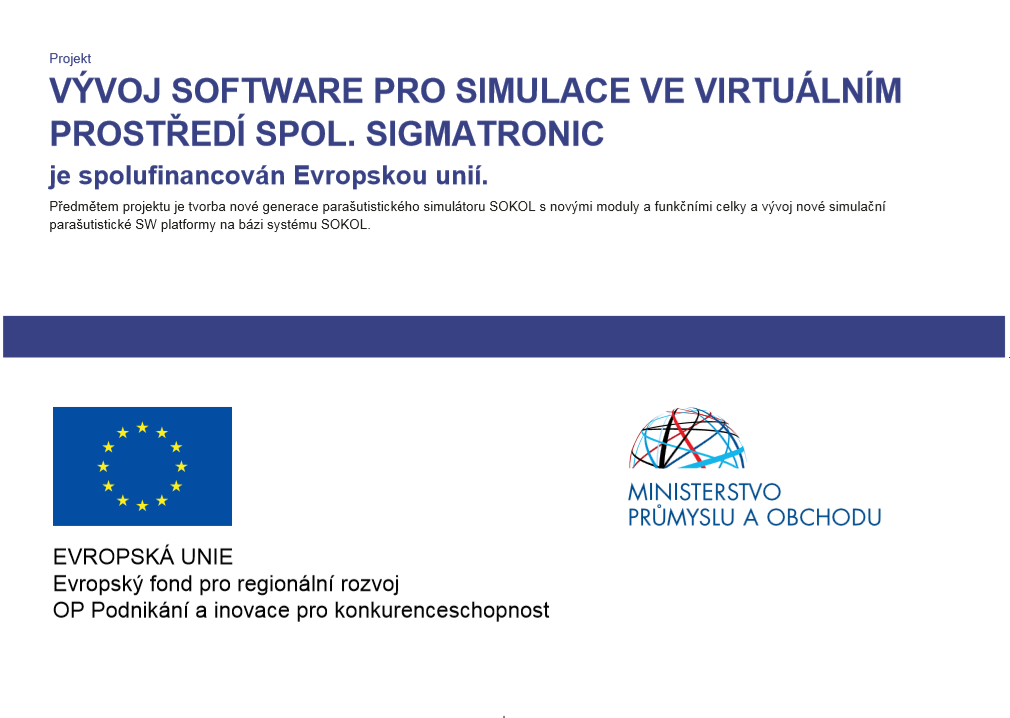 SIGMATRONIC a.s.
Na poříčí 1047/26
110 00 Praha 1
General Manager: Joseph Muellner
dentification Number: 285 37 301
VAT Number: CZ28537301
Registered: Town Court Prague, Register 15095, Abt. B
---
Copyright
The copyright for any material created by sigmatronic is reserved. Any duplication or use of objects such as pictures, videos, diagrams, sounds or texts in other electronic or printed publications is not permitted without sigmatronics's agreement.
Privacy Policy
If the opportunity for the input of personal or business data (email addresses, name and addresses) is given, the input of these data takes place voluntarily. We are protecting the privacy of all information provided by users of our website.
The use of published postal addresses, telephone or fax numbers and email addresses for marketing purposes is prohibited; offenders sending unwanted spam messages will be punished.
Quality policy
As part of our commitment is to ensure the quality assurance of our products and services, on which we set our quality policy.
The QM system is a description of our requirements and its application ensures that all activities that have an impact on business performance are planned, managed, monitored and that the contractually agreed requirements are fulfilled.
Through this statement, the management obliges all employees and providers to perform their activities followed by the description of this QM system to ensure that the quality of all our products and services meets the internal and external requirements.
Management evaluates the performance and effectiveness of the QM system by assessing results, internal audits and performance evaluations.
We provide all necessary means to fulfill the quality objectives and to promote the quality policy.
The stable quality of our products and services is one of the foundations of our successful business. For us, quality means satisfying the requirements of our customers and interested parties in the best possible way. In this sense, quality is an important criterion for our daily business and forms a reliable bond to our customers.
For us, acting in a quality-conscious manner also means using resources efficiently. All employees have a duty and the right to seek and eliminate circumstances that may limit the performance of the Company.
We commit ourselves to the constant improvement and further development of the QM system. The continuous improvement of the company is therefore also a prerequisite for an effective reduction of costs in the medium and long-term horizon.
The essential framework consists of a smooth organization and advanced methods of quality management. All employees are required to apply the rules in their area of responsibility, to monitor their effectiveness constantly and to adapt them to the latest knowledge and requirements. This understanding of quality and quality awareness, as well as the good approach of all employees to this policy, are premises for the satisfaction of our customers and thus for the lasting success of our company.
Principles of quality management
We observe the principles of quality management.
customer focus
leadership
inclusion of persons
process-oriented approach
improvement
fact-based decision-making
relationship management